December 5, 2011
OMNI presented Quest 2 Learn Project at the Center for Architecture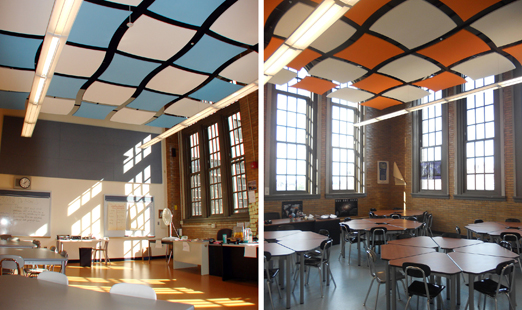 A critical issue facing school development in New York City is the lack of new real-estate. To resolve this, the NYC DoE is looking towards its existing building stock for floor space. In an environment where the creation of new seats is a priority, this project was envisioned to provide a new home for a school within an existing school building in the heart of Manhattan.
The incoming school, Quest to Learn (Q2L) has, in part, a focus on using play to teach how interconnected "elements of a system" interact to meet a goal. The original school, designed in 1929 as the Textile High School of Manhattan, housed its physical education spaces on the 7th floor; the North wing of the floor was at that time designed as a play area. 80 years later, in 2009, OMNI redesigned this underutilized space as a school that uses digital play as a teaching tool.
The space was found to have nineteen feet high ceilings inappropriate for classroom use, with an echo that was emphasized by the glazed brick walls. Dropped acoustic ceiling panels were used as an economical design element, eliminating this echo while maintaining the full-height windows. These acoustic panels also provided a canvas on which to reference the pixelated visual identity of the school. This pixelated pattern was then employed prominently throughout the school as a design determinant.
In a real way this pixelation updates the idea of the melting pot – a mosaic of unique elements interacting to form an image, exceeding the sum of its parts. This project shows that the idea holds true not only for a student amid other students in a school, but for a school amid other schools in a building, and a building amid many more within the overall urban fabric of the city.
For more information, please visit the M440 Q2L project page.